Disaster Recovery (DR) is a system by which a company avoids significant economic losses when its IT infrastructure is severely damaged.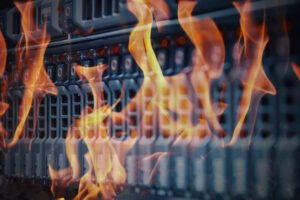 Although it is focused on IT, an effective DR plan starts by management considering a variety of negative scenarios from a purely business perspective, including:
The comms room of the company is damaged by fire or flood, destroying the onsite server/backups.
The server hard drives become totally corrupted, requiring a new server to be built, which could take up to 1 week.
A ransomware attack encrypts all data on the server.
A natural disaster prevents most or all employees from travelling to the office.
For each scenario, key questions which must be answered include:
What is the longest time we could be without access to our IT systems and not suffer significant economic losses? This provides the Recovery Time Objective, or RTO.
How much hours/days of data could we afford to lose? This gives the Recovery Point Objective, or RPO.
Most businesses would probably prefer the answers to both questions to be "as low as possible". However, the lower the desired RTO and RPO, the higher the cost of the DR system. Businesses must identify the "sweet spot", i.e. minimising the cost of such a system while also minimising the potential economic impact of such a loss. A trusted IT Advisor can help their clients with these questions. The ultimate cost of a DR solution should really be compared to the potential loss if disaster struck, as this shows the true value of such an investment. This article from Small Business Computing gives an excellent overview of DR from a business perspective. If you would like to discuss how to protect your company's IT if the worst happens, call us today on 091 395413.