As an approved Microsoft reseller, customers choose us to resolve their IT challenges with software which meets their business requirements.
Microsoft have a really nice website. They have lots of wonderful content on their products, and really useful case studies of their many applications. You can even purchase the products directly. In some cases however, they require customers to purchase via an approved reseller like ourselves. Even when you can purchase directly, it might be advisable to let an experienced guide do this for you, and it's important that the right option (and there are LOTS of options!) is selected to ensure it works exactly as expected.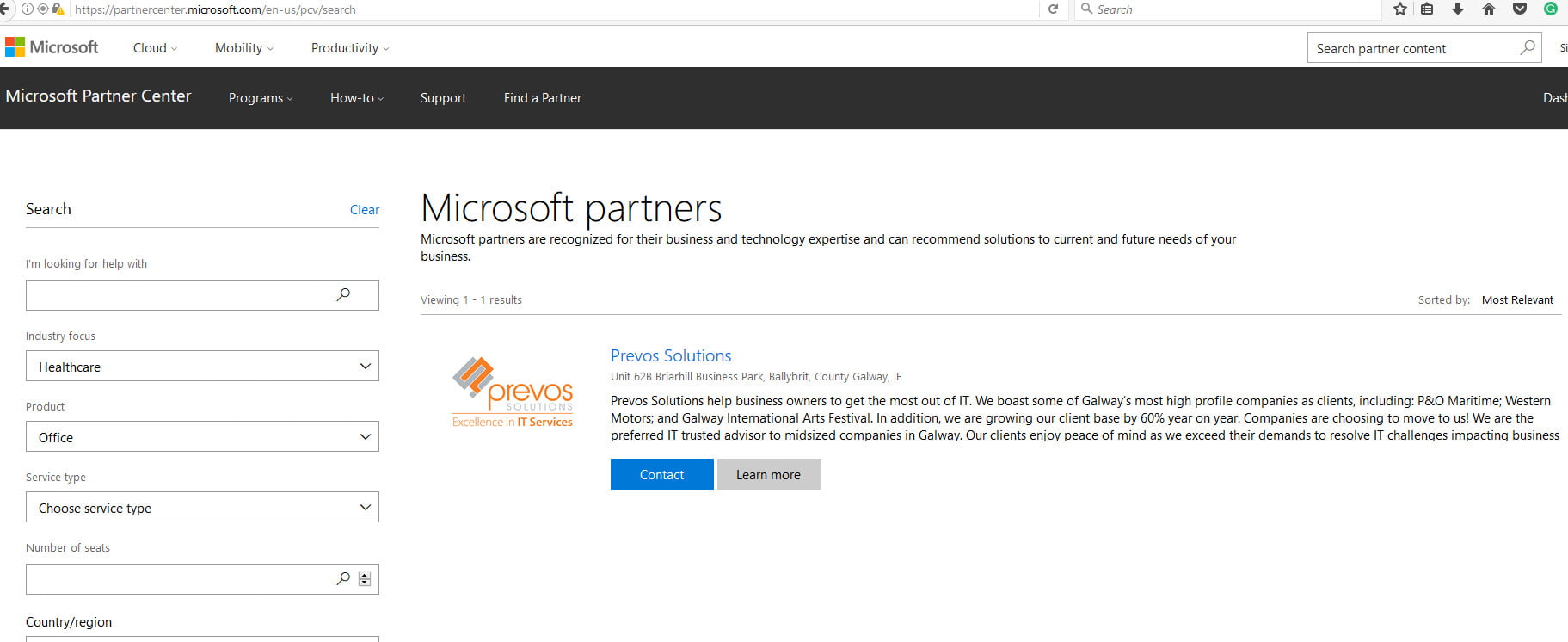 I believe this is in the best interests of the customer. With our extensive product knowledge and experience in provisioning Microsoft products for a wide variety of organisations, we ensure that Irish SMEs quickly get the right product for their requirements. In the past month alone, we've helped Legal Technology companies, HR Consultants, Architects, and Solicitors, by selecting the right product for their business requirements, and implementing it so they can get on with their business. Here are some examples of how we helped these customers.
Windows 10 Professional
We were contacted by a business who required some licences of Windows 10 Professional to upgrade their Windows 7 PCs. This might seem straightforward, but the licence can be procured in a few different ways, e.g. an ordinary licence, or one which can be managed through a Microsoft Volume Licencing Account. The latter is used by customers who tend to purchase a predictable amount of Microsoft products each year.
*PRO TIP*: If you ever purchase a computer for your business (and let's face it, even home computers eventually become business computers thanks to remote access technology), always ensure that it includes Windows 10 Professional, rather than Windows 10 Home Edition. They are similar in most areas, except for advanced networking, where the Professional version contains key features, not included in the Home edition, required to make this work effectively.
Office 2016

This is the one-time purchase licence of Microsoft Office Productivity suite, including Word, Excel, PowerPoint etc. Again, there are a few purchase options, so not a walk-in-the-park in terms of deciding on which option to choose. For example, the Open Licence option costs more than the Retail version. Key advantages in the Open Licence version include:
For a nominal additional amount, you can avail of future new product releases
You can downgrade to earlier versions. At first glance, this seems counterintuitive: "But Kev, why would I want an older version than the latest release?" However, this is required sometimes for some customers legacy programs which might require an older version of Office to run effectively.
Exchange Online
Microsoft's excellent email service is increasingly selected by Irish businesses to more effectively manage their emails. Now technically, customers can purchase Exchange Online themselves through Microsoft's website, but to be honest, setting up can be a little tricky. When you throw into the mix additional users, and mailboxes or aliases (our earlier blog post explains these concepts), what starts with tricky can end up overwhelming the less experienced! Of course, we know all the ins and outs of this stuff (being the IT geniuses that we are 😉), which is why customers are happy to leave this to us.
Office 365 Business Premium
Customers are increasingly choosing this product, which is a monthly subscription to Microsoft Productivity suite, including Word, Excel, Outlook and Powerpoint. This automatically receives the very latest software releases, which would not be the case when you buy the retail licence (Office 2016) version. Not only this, but it also includes Exchange Online, the excellent email hosting product, as well as OneDrive, so you can securely store your documents on the cloud.
So if you are trying to decide on the right software for your business, give us a shout, and we'll get you on the right track.