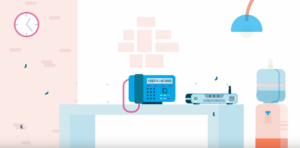 The way your business phone and mobile phone operate has started to change.
Every day, more businesses and people are choosing VoIP solutions for their business phone services rather than traditional fixed analogue phone lines.
What is VoIP?
VoIP stands for Voice over Internet Protocol, which is essentially the delivery of voice communications via the internet. Other terms associated with VoIP are internet telephony, IP telephony and broadband phone service.
Operating voice communications over the internet presents major differences with phone services using the traditional PSTN (Public Switched Telephone Network) method.
It is a sign of the changing times that phones are now sitting in offices around the world which will not connect to PSTN phone lines, they've been made specifically for VoIP. In fact, it is estimated in Ireland that 33% of businesses will be using a VoIP solution for their phone services by 2020.
So what exactly is VoIP, in terms of its advantages and disadvantages?
Advantages of VoIP
VoIP offers substantial advantages over traditional phones services, which is the reason that the proportion of businesses making use of this technology is projected to increase going forward.
Cost savings
Every business wants to save money, especially if the less expensive option offers the same or greater functionality than the more expensive alternative.
Historically, phone services have relied on a physical phone line to connect an office or home to the public telephone service network in order to make and receive calls. Phone service providers charge a line rental fee on top of whatever you are billed for the calls that you make.
As VoIP sits on the internet, there is no need for a phone line and thus no need to pay line rental.
Mobility
Moving office or working abroad for the time being? Traditionally, keeping your phone number when you changed location was a hassle if at all possible.
Using VoIP, your number is not assigned to a physical phone line. This means that you can bring your number with you so even if you change location, your colleagues and customers can still reach you easily.
Scalability
Do you need more phones and phone numbers for more people? That's not a problem with VoIP. Scaling up a traditional communications system can require a lot of extra configuration as well as extra hardware in addition to the handsets you'll need.
With VoIP if you need to scale up your communications system, all you need are the extra handsets.
Flexibility
If you want to change how your communications are configured with VoIP, most people can do this without requiring much technical knowledge. The process of changing numbers or extensions which are assigned to phones or forwarding numbers can be done surprisingly easily.
In comparison, changing the communications configuration for an entire office using traditional phone lines requires someone with specialist knowledge. This specialist would need to be involved every time something needed to be changed on your communications system.
Standard Features
Historically, features such as conference calling, call screening, call forwarding would have been treated as an add-on that had to be paid for, if at all possible.
With VoIP, features such as these as well as: Call Reporting: Do Not Disturb; Caller ID and many more, come standard as part of your package which gives you a better communications solution.
Disadvantages of VoIP
Like almost any technology, VoIP is not always for everyone. If you're interested in adopting it as a solution for your phone services then you should be aware of these points.
Internet Reliant
Unfortunately, some people who want to use VoIP may not be able to. As the technology is internet reliant, having a reliable internet connection of a minimum standard is a requirement. The improvement of infrastructure governing internet availability and reliability, and the increase in VoIP users is directly correlated.
What happens if my internet connection goes down, or my provider's service has issues? Unfortunately, this might affect your ability to make and receive phone calls whereas because traditional fixed lines do not rely on an internet connection, they would not be affected.
Look out for providers that offer 'Fail Over' whereby if your broadband goes down, calls can fail over to another phone or location of multiple phones. Also check that your VoIP provider has "Fail Over" built in with two data centres.
This article has been prepared by Blueface for Prevos Solutions. Blueface believes in providing businesses with hassle free, powerful landline and mobile phone services at great value, because communication should be easy.