Your business is growing to the point where you might need a server, or you are thinking of upgrading. Lets look at some options…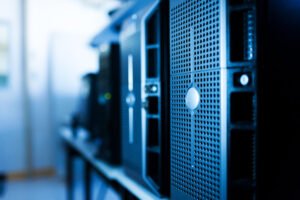 A server is, broadly speaking, a very powerful computer with advanced networking features, which hosts various applications which client computers can access. Data generated from these applications and/or the client computers can also be stored on the server. Servers can be onsite, or cloud-based. Cloud-based means you can access the server from any computer with an internet connection.
An onsite server can serve as few as 2 client computers up to potentially hundreds. However, servers in a data centre with very advanced features can handle many more.
Most businesses servers are onsite. This is partially out of neccesity, as many regions in Ireland do not yet have the broadband speeds to support a cloud-based server. The disadvantage of an onsite server is potential hard drive or other damage (e.g. virus/malware etc.), which can cripple a business. For this reason, it's important to have a reliable data backup, preferably offsite, like a cloud backup service, so that data can be restored to the repaired or replaced server. For additional security, some businesses keep a regularly updated 'image' of their entire server in the cloud, including applications, permissions levels, and data. In the event of physical server damage, the virtual server can be quickly accessed in minutes, as opposed to days.
Even if you have a large office with lots of computers, you may not need an onsite server. Commonly used programs like Microsoft Exchange email, CRM/payroll packages, and file storage may be hosted on the cloud, and some businesses operate in this manner. This is known as Cloud Computing, and the main advantage here is not needing to worry about data loss or server damage, as this is the responsibility of the cloud provider. Very good broadband is critical for this however, preferably a redundant connection is also installed to ensure uptime in the event of an outage with your primary broadband provider.
If you are considering an onsite server for your business, or upgrading to a new one, its important that it is configured and installed by IT professionals with vast experience of Microsoft Server software. A server is required to do many tasks and functions, and a badly configured setup can be a productivity drag on an entire organisation. If you have any questions regarding any aspects of your server or are thinking of investing in one, please call us today at 091 395413 for a free, no-strings, consulting session.